Signals Management
Abstract
Learn how to manage the i4connected Signals. All that you need to know about adding, editing, deleting Signals, and much other information!
At the level of i4connected, managing Signals can be a complex operation. To provide a simple explanation of the terminology itself, the scope of signals is to identify timestamp associated measurements (data points) registered by a device. The i4connected Signals can establish multiple use cases, depending on the plant needs.
Based on the i4connected signals workflow, there are two separate denominations:
Signal definition - the abstract definition of the signal, consisting of a signal name, description, alias, type, and other advanced settings such as conversion, dead-band, plausibility delta, interpolation, gap, stale data detection, and inactivity intervals.

Signal value (measurement) – the actual manifestation of a signal, consisting of a value/timestamp pair.

The Signal value is involved in consumption measurements since it represents the resulting difference between the last value and the current value (e.g. – an energy consumption counter is read periodically and the measurement is calculated by deducting the current value from the initial value).
Each signal is individually logged. All its measurements are stored in that log and reused for further analysis purposes.
Based on their value-timestamp measurements, we can distinguish two Signal categories:
Counter value Signals – the values registered by a Signal consisting of a value/timestamp pair. These are the actual raw signal values, used in various measurements.

Absolute value Signals – are regular data points that represent various values such as temperature, instant consumption, voltage, etc. Anything that is not a counter falls in this category.

e.g. – the recorded measured values are automatically reused to calculate KPIs.
Signals can be managed in the context of the i4connected Devices, by clicking the Signals tile from the View Device panel, by all users having at least the View sites and View devices permission enabled.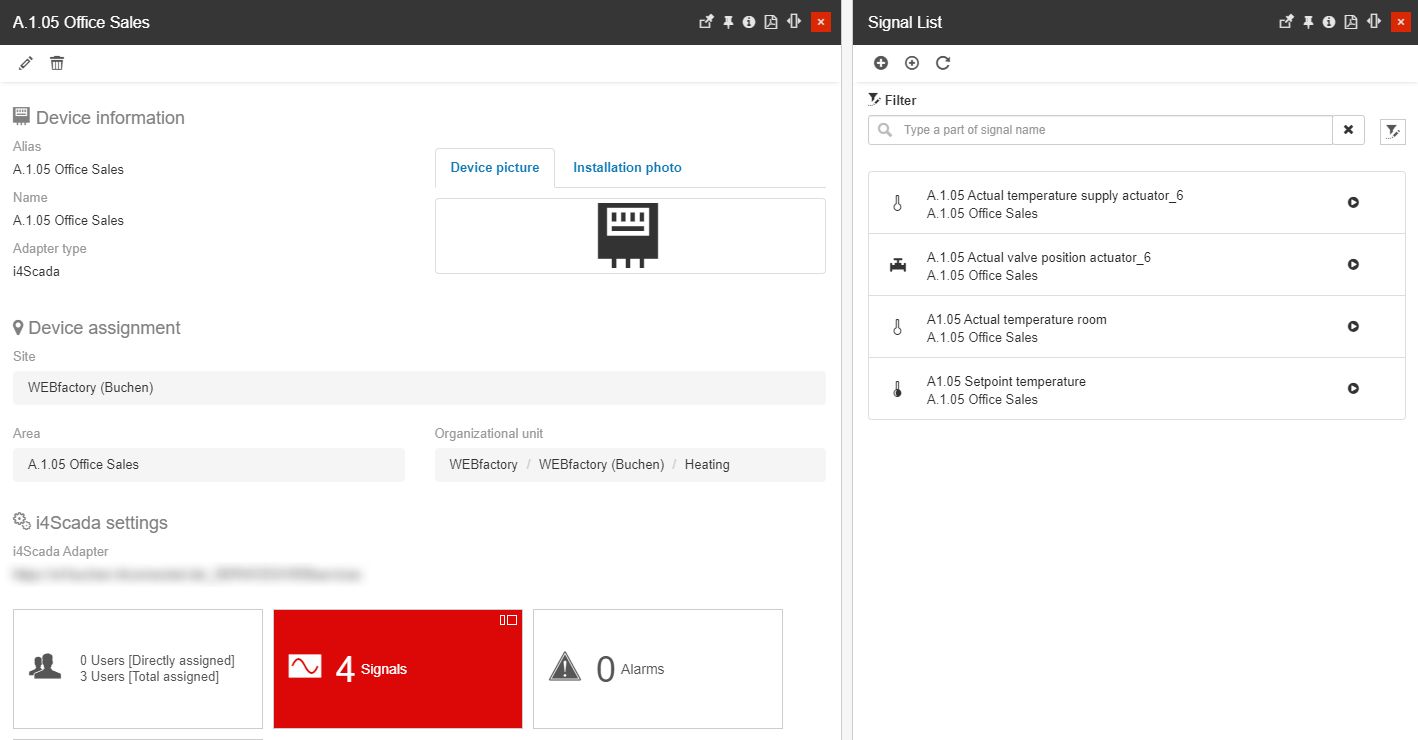 The Signal List panel displays all the Signals assigned to the selected Device, providing the user with the following options: