Visual structure
Abstract
Learn how to move around the i4connected Mobile Application or take a look at these screenshots to get an idea.
After logging into the i4connected Mobile App the user is prompted to the main view of the application. In this view, the Counter Routes Devices are listed, based on user authorization level.
The level of authorization is defined by the system administrator, within the i4connected desktop application.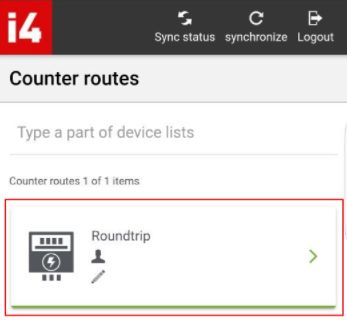 Given the fact that the list of devices can feature a large number of items, the user is provided with search functionality. By typing in a part of the device name, the list is filtered to display only the corresponding devices.
In the toolbar of the i4connected Mobile App, a set of options are featured:
Sync status - displays the last synchronization status(es).

Synchronize - synchronizes data to the i4connected platform.

Logout - logs the user out of the application.