WEBfactory 2010 Studio Translations area
Abstract
Switch your visualizations to various languages during operation. WEBfactory 2010 Studio supports standard texts with project-specific texts and add new languages.
The Translations area of WEBfactory 2010Studio provides the tools for managing the translation of various texts for the available languages. The symbolic texts (the default texts before applying the translation) will be displayed at run time as translations corresponding to the language selected by the user (or set by default in Studio).
IMPORTANT: After updating any symbolic text translation in WEBfactory 2010Studio, the Internet Information Services (IIS) must be restarted in order to display the updated symbolic text translations.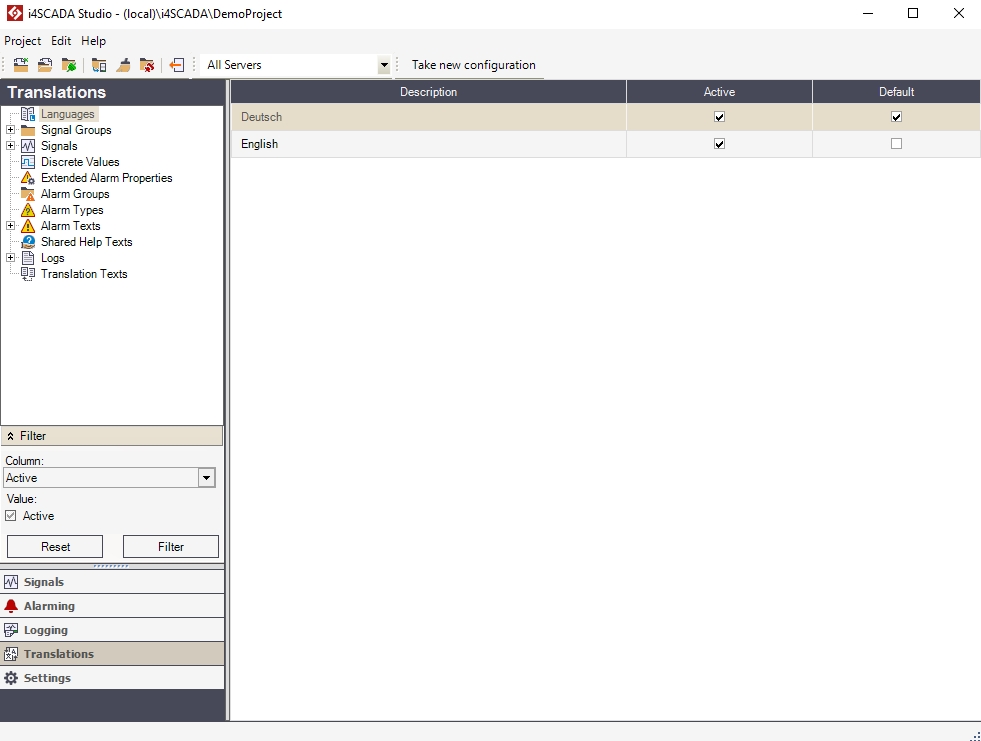 The Translations area's functionality is divided in twelve sections, available for selection using the Translations tree menu (click on the links to see more details about the Translations area's sections):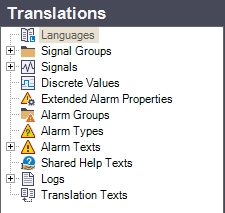 Right-clicking on any item in the Translations tree menu will open the contextual menu. The contextual menu provides a single option for selecting the visible languages.
| UI Option | Description |
| --- | --- |
| Add new symbolic name | Where possible, allows the user to add a new entry in the custom symbolic texts that supports translation in the available languages. |
| Visible languages | Opens the Set visible languages dialog. Here, the user can select which languages will be displayed in the main panel, thus making available translations for that language. |
Right-clicking on an item listed in the main panel will open the contextual menu, providing the options to edit the current cell, set the visible languages, export and import translations and set the column width.
| UI Option | Description |
| --- | --- |
| Add new symbolic name | Where possible, allows the user to add a new entry in the custom symbolic texts that supports translation in the available languages. |
| Edit symbolic name | Where possible, allows the user to edit the text in the current cell. |
| Remove symbolic name | Where possible, allows the user to remove the selected entry from the table. |
| Visible languages | Opens the Set visible languages dialog. Here, the user can select which languages will be displayed in the main panel, thus making available translations for that language. |
| Export text translations | Allows the export of translations for the selected translation, entire section or all translations. |
| Import text translations | Allows the import of text translations. |
| Column width | Sets the current column width to either Auto fit or Fit to page. |